20 Powerful Tips For Working At Home Productively As A Blogger
There's this sense of illusion that working from home means you just plop around the house and stuff just magically gets done. Working at home comes with it's own set of challenges, and making sure that you're both efficient and productive in your business is one of them. Being productive when blogging helps you find more time to do the things you love, so you can truly enjoy the blogging process. In this blog, I'm going to share with you 20 incredibly powerful tips for working at home productively as a blogger which I personally use to help me stay motivated, meet my deadlines and make sure that I'm getting quality work done quickly. This lets me spend more time with my family, or just indulge in a bit of 'me time' outside of my business.
JUMP TO:
1. Create A Plan – Mindmap Your Ideas
One of the biggest mistakes we made when we first started blogging back in the dinosaur ages was not having a plan. Without a clear plan, it's difficult to really be intentional in your business.
By really understanding our ideal avatar, we can understand the journey that they need to go through to take them from where they are now, to where they want to be… After all, business is all about helping people solve their problems.
We are typically quite visual people, so we like to mindmap our the flow of our 'traffic' on our website so that we can ensure our audience is moving in the right direction.
If you haven't already got a mind-mapping tool, Canva has a range of free mindmap templates that look beautiful that you can use, or you can use a program called Draw.io
Draw.io is a flowchart tool that integrates beautifully with your Google Drive, meaning you can keep everything easily organised in one place.
They're not as aesthetically beautiful as Canva's mindmaps, but I find them a lot more functional for this purpose.
2. Batch Your Content
Switching hats all the time can actually waste a ridiculous amount of time.
By batching your content, you're saving your brain from needing to switch gears so frequently.
We also often find ourselves in a rhythm in doing what needs to be done, making us more efficient.
3. Stay Organised!
Keeping both your desk and your computer tidy and organized can dramatically improve your productivity.
Knowing exactly where to find what you're looking is a huge advantage.
There's just something about working on a clean desk that makes us all more productive.
When we first started blogging we found the amount of content, social media scheduling, etc. overwhelming.
And so we developed an Google Sheets (Excel) document which we now call 'The Bloggers Workstation' where we could keep everything organised including our:
Blogs
Lead captures/freebies/opt-ins
Things we're selling
Pinning schedule for Pinterest (+ reminder for when we are due to pin again)
Affiliate link register (login details
Social media register (logins, notes, etc.)
Budget for recording expenses and income
Tools/Resources register (keeps track of billing info, logins etc.)
Pinterest Boards Register
Pinterest Trends Planner
Pinterest Scheduling Calculator
Business income and expenses
This spreadsheet is hands down the best thing we've done to improve our organisation and productivity as bloggers.
4. Use Templates
Probably one of the most universal, high level tips for working at home productively is having templates set up for things you do regularly.
Using templates in our business saves us a lot of time!
If you're going to set up templates for anything, I recommend setting up templates for your social media graphics and blog feature images, and your email newsletters.
This keeps your content looking 'on brand' and will carve off hours of design work.
Graphics Templates
We use a big batch of Canva templates for our Pinterest Pins, along with Call To Action (CTA) templates which can be used on either Pinterest pins, throughout or blogs, or anywhere else we need them.
These templates are already branded with our colors, fonts and our branding (logo or URL).
I'll admit creating all the templates from scratch did take a reasonable amount of time, but once it was set up, I realised just how much we were missing out on, and I wish we'd done it earlier.
If creating your own templates seems like too much work, you can get premade templates either through our shop, or through places like LadyBossStudio who specialise in feminine styled customizable templates for Canva, Photoshop, Powerpoint, etc.
If you're looking for the whole kit and kaboodle, she has full bundles including Freebie/Opt-in Templates, social media templates, pin templates, branding kits and more.
Email Templates
Having email templates set up in your email provider will also save you lots of time setting it up each time. It can even help you come up with content to send to your list (e.g. have a section promoting your latest blog… I touch on repurposing a bit later)
If you're new to blogging, I suggest getting started with Aweber.
Aweber is one of the big guns in the email autoresponder world, so it tends to integrate really nicely with pretty much any tool or product we've ever had to use. They now also give you the ability to build landing pages for list building as part of their service.
They have a free version which has a lot of really useful functions that other free email autoresponders don't have, and their 24/7 support has been completely invaluable to us (yes you still get access to this support even on the free account).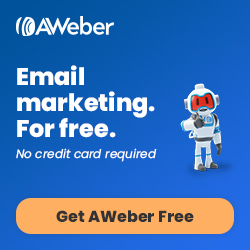 Aweber also has a large range of really nice templates for lots of different purposes which you can leverage.
It's also possible to modify those templates to create one specific to you (including all your social links, branding, logo, etc.) which saves a lot of time.
If you don't fancy yourself as much of a designer, Aweber have a service where they can modify/customize a template for you, or design an entirely new one from scratch starting from just $29.
Swipe Files
Having swipe files handy can be a massive time saver in trying to come up with something creative when you're struggling. This, as a result, can save you an enormous amount of time.
We have a whole range of different swipe files and checklists created for bloggers in our freebie library.
5. Listen To Your Energy Levels
Being a mom of two young kids, energy levels from day to day can fluctuate a lot.
I consider listening to your energy levels one of the most important tips for working at home productively.
If I've been up all night catering to a baby who's teething, I'm unlikely going to be in the right headspace to be pumping out a 10,000 word blog or working on something technical.
I have a habit of being a bit hard on myself to just 'push through'… But what I've found is that when I do this, I tend to make mistakes…
Or, I find myself so overtired and grumpy that I'm simply no fun when I'm with my kids or husband, and that's really not the person that I want to be.
If you can relate to this (regardless of whether you have kids or not), the absolute best thing you can do is give yourself the time to rest when you need it.
Your brain will work so much better if you give yourself a little time out and have a decent sleep… as long as you do eventually get back to what you need to do.
If you're not ready to curl up in bed but don't really have the brain capacity to be working on something difficult, try working on something that doesn't really require a lot of brain juice, and make sure you're using the Pomodoro Technique below.
6. Use The Pomodoro Technique
The Pomodoro Technique is my absolute favourite productivity hack that exists!
Back in my uni days, I used the Pomodoro Technique when preparing for my exams and I promise you this technique is effective… I passed!
Studies have shown that the human brain struggles to focus on a task for a long period of time.
The Pomodoro Technique is essentially focussing on one task for 25 minutes, then taking a break for 5 minutes.
Rather than trying to hammer out a tonne of content for 3 hours straight, make sure you take a short break every half an hour.
This will not only help your productivity, but you'll likely find an improvement in the quality of your work.
You can either set a 25 minute timer using your phone, or you can download specific Pomodoro Timer apps to make sure you're sticking to schedule.
There are a number of other things you can do to make the Pomodoro Technique even more effective!
7. Break Down The Framework Of Your Blog
I learned this technique from my English Teacher in high school and I've used it ever since.
If our goal is to write a 2,000 word blog, or even a 5,000 word blog, this can seem like an intimidating task.
Well… how do we eat an elephant?
One bite at a time.
Before you start writing your blog, sit down and figure out the framework for your blog.
Account For Introduction and Conclusion
You will always have an introduction and conclusion.
I always allocate a word count for introduction and conclusion but they are always the last thing I write.
That way they actually tie the piece together in a way that makes sense.
Typically these will make up 5-10% of your entire article. So for a 2000 word blog, you can allocate 100-200 words each for the introduction and conclusion, leaving you with approximately 1700 words to write.
Determine Your Subheadings
Next, write down a list of the different 'arguments' or 'points' that you intend to write about. Each of these subheadings will give you a space to be able to focus on one specific point.
Develop A Word Count For Each Of Your Subheadings
We then allocate the remainder of the 1700 words to those subtitles. How much we allocate to each point will depend on which points will require more attention and may require more explanation.
If we have 8 points to cover, this would work out to be just over 200 words each point, or it might be allocated unevenly based on how much you've got to say on each point.
3 x 100 words
2 x 250 words
3 x 300 words
Suddenly, that 2000 word blog is cut down into bite size pieces.
Knowing you only need to write 100 words (or even 300 words) is a lot less intimidating and seems a lot more achievable than the initial 2000 word goal.
Breaking it down like this means that you are a lot more concise with what you're writing.
You are also much less likely to go off on an irrelevant tangent.
This is a massive plus for your reader experience and makes editing your work a million times easier.
8. Close Out Of Any Screens You're Not Using
Having screens open that you don't need are just a distraction that you don't need.
The brain doesn't handle multitasking very well.
Exiting out of tabs or screens that you aren't using will take away the temptation.
NEVER have social media open while you are working (unless you're actually posting your content to social media).
If this is something you struggle with, there are a number of free Google Chrome Extensions that you can use to help you cut down on the distraction.
9. Write Your Content In Advance
Sometimes life happens.
Kids get sick, an unexpected visitor shows up.
Any number of things can happen that can throw us off our schedule.
Having your content prepared in advance means that you can still stick to a posting schedule if something unexpected happens.
Knowing that you have a bank of content prepared also takes off the pressure and can prevent you from scrambling to get something finished and delivering subpar quality.
This is one of those tips for working at home productively that you'll thank yourself for this in the long run.
10. Repurpose Your Content
As bloggers we can spend a lot of time coming up with content that is really valuable for our audience.
Don't let your time and effort go to waste! Repurpose it!
There are so many different ways you can repurpose your content, making you super productive.
A blog can be made into a video, or the other way around. You can throw Podcasts in the mix.
You can even turn your blog posts or YouTube videos into PDFs or eBooks extremely quickly using software like Designrr.
Why not turn your best performing blog post into a freebie-optin, course, or email sequence?
We don't always need to reinvent the wheel. Simply adding to something that your audience already loves can be just as beneficial.
Also, remember to promote your new blog to your email subscriber list.
It gives you a way of providing great value to your list without needing to put in a lot of extra work.
It will also get you extra engagement on your newly created piece which is a great signal to Google that you've provided good content.
11. Outsource Jobs
If you find yourself completely pressed for time, you can always look to websites like Fiverr or Upwork to outsource time consuming jobs that you don't like.
Leveraging your time like this means you can focus on the bigger picture of your business.
Jason Whaling has some awesome content guiding you through how to engage a freelancer and the best process to take which we found really helpful. Jason has actually been a freelancer himself using these services so can share his experience from both sides for how to achieve a successful partnership.
12. Curate Content
Ever heard of the Oprah effect?
Providing amazing content to your audience doesn't mean that you need to come up with your own unique idea every single time.
Curating valuable content that others have created can be just as effective.
Think about what Oprah does! She brings people into her show and interviews them, allows them to share their story and their experience, which provides value to HER audience.
The same goes for many talk shows and blogs. If you feel that someone else's piece is of value to your audience, write about it, share their YouTube video on your blog or social media.
But… always remember to give proper credit to the original content creator with a link back and never claim that the content is yours.
13. Browser Bookmark Frequently Visited Pages
Saving links that you use all the time and keeping them well organised can save you a lot of time in the long run.
Remember to also remove any links that you aren't using anymore so that it stays uncluttered and easy to navigate.
How to create a browser bookmark using:
14. Keep A Style Guide / Branding Kit
Keep a style guide for your brand handy. Include things like your logo, fonts, branding colors, elements, and anything else that makes up your brand.
Having this information handy makes creating your content and designing your graphics a breeze and it will always look consistent with your website.
Canva Pro has a branding kit section included where you can keep all your branding within the click of a button while you're designing your graphics.
The branding kit is one of the main things we use in the paid version of Canva Pro. It's one of those functions that we didn't really think much of until we started using it, then realised just how beneficial it actually is.
If you want to try out Canva Pro and the branding kit function (along with all the other tools that come with Canva Pro), you can grab a 30 day free trial here.
If you're feeling completely hopeless in creating your own style guide and you're looking for a feminine style for your brand, I recommend checking out LadyBossStudio, she has tonnes of options for you to choose from.
15. Avoid Switching Tasks All The Time
An article written in the Harvard Business Review talked about how human brains really struggle to focus on more than one thing.
By focussing your attention on just one task and eliminating the distraction of trying to do more than one thing at once, you'll get a lot more (and higher quality) work done in the same amount of time.
Every time we switch tasks, it takes a moment for our brain to reset and figure out where we were up to, and what we need to be doing next.
This might only be a short amount of time if only doing it once, but if switching tasks a lot, you'll end up wasting a lot of time.
16. Have Only One or Two Places For All Your Ideas
Keeping really organised will save you massive headache and probably a bit of your sanity.
There are 3 main things I do to make sure my desktop is well organised and easy to navigate.
Using our Bloggers Workstation.
I work primarily with our Bloggers Workstation because everything is kept in one place and leverages a coding system to find literally everything we've created instantaneously. This includes blog posts, freebie/opt-ins, Pinterest pins, social media images and more.
Virtual Sticky Notes
I then also use virtual Sticky Notes on my computer to keep a list of those random miscellaneous things that I need to get done.
I find these sticky notes really useful because I can amend my notes without making a mess, and you can actually change the shape of them to fit your notes and even add images.
I use the Microsoft Sticky Notes which is free, but there is also a sticky notes Chrome Extension that you can use if you prefer.
Using A Desktop Organiser.
Making the background image of your computer into a organiser has saved me a lot of time trying to find relevant folders and files.
You can make them look really cool, and it's so refreshing looking at my computer desktop now compared to what it used to look at.
It only took me around 10 minutes to create my desktop organizer in Canva, and it was 10 minutes well spent.
17. Automate social scheduling
One of the most time consuming task in the blogging business is posting to social media.
Tailwind are official partners of both Pinterest and Instagram, and in our opinion is the best scheduler for bloggers wanting to use these platforms to drive traffic.
It's so easy to use and has a lot of features inside which help you optimise your account and their support is awesome!
We use the 'optimized time-slots' and 'tribes' a lot in our Pinterest strategy to pin quality content for our audience and have seen some amazing growth in our traffic since using it.
If you aren't already using Tailwind, make sure you grab a free trial using this link.
For other social media sites, there are so many different options out there.
While we were first introduced to Hootsuite a number of years ago and loved it, we since discovered slightly different schedulers known as 'evergreen schedulers'.
Evergreen schedulers allow you to recycle your content on social media automatically. This saves a LOT of time and really helping you get the most out of the content that you've created.
You can also curate other people's content onto your social media to help fill the feed and provide value to your audience.
There are a few different evergreen schedulers, including SmarterQueue, Edgar, Viraltag and Recurpost.
The biggest downside we found with evergreen schedulers, however was the price point.
Compared to Hootsuite or the like, evergreen schedulers were more expensive, although the benefits were a huge time saver!
Monthly subscription software can really add up. So, if you're looking for a more pocket friendly alternative to get you started, we recommend starting with Recurpost as they have a free version (not just a trial).
18. Learn To Say No
Don't be a yes man…
Remember that your time is valuable and you must protect it and if you want to get something done you must make it a priority.
A lady that worked with my mom lost an enormous amount of weight because she started prioritising her meal prep and swimming every morning.
If she was asked to join someone for breakfast or go somewhere instead of for her swim, she would say no, because she had her priorities set.
Don't get me wrong, she still spent plenty of time socialising and having fun, but she would always make sure that she did what she needed to to achieve her goal.
Do you find yourself constantly dropping your work to go out for coffee?
Or to pick up someone else's slack?
Or just to socialise with friends who are available for the day because they think working at home means you don't do much?
If so, then it might be time to start setting some boundaries and saying 'no'.
19. Remove Time-Wasting Activities and Distractions
If you can automate it, do it.
The Pareto Principle suggests that 20% of your work produces 80% of your income.
The less time we spend doing non-money-making activities, the more time we can spend either building our business further, or spending time with our loved ones and enjoying our life.
Much of our goal when creating the bloggers workstation was to keep things as organized as possible, but also automate as much as we could.
This would allow us to hone in on that 20%.
And so we added tools like the Pinterest Schedule Calculator which instantly breaks down your pinning schedule and makes scheduling your pins so much faster and less of a headache (regardless if you're pinning manually or not).
We also have an intelligent Pinterest trends planner which automatically reshuffles to be in chronological order of the trends we will be paying attention to in our business.
This saves us the time and brain juice in figuring out what the next pieces of content are going to be about.
Remove Distractions
Sometimes is the most simple of all tips for working at home productively that makes the most difference.
If you are able to get undistracted time when you work, you'll find yourself to be so much more productive!
Saying that, I have two toddlers so I completely understand that 'undistracted' time can sometimes be hard to come by.
This makes your 'time on' so much more important to actually be productive.
If you have young children, try doing your jobs around the house when the kids are awake and get them involved wherever you can!
Kids typically love to help, and it helps you instil a good work ethic and values at an early age.
When they go down for their nap or once they're asleep at night time, it means you can focus on your business without having all those other tasks lingering in the back of your mind.
If you have someone that can watch the kids for you so you can focus, this can give you some very valuable time to get lots of work done.
I use the time in the evenings to work on my blog after the kids have gone to sleep instead of watching TV.
Take a check on yourself and have a look at what distracts you on a typical day.
Is your inbox full of emails which stop you from getting your work done?
Consider Your Work Environment
It doesn't matter how many other tips for working at home productively you have, if you are working in an environment full of distraction, it's going to make it nearly impossible.
Do you have the TV on in the background when you're working?
Our life can be full of so many different distractions… try to identify where you're falling down and come up with a system to remove the distractions.
20. De-Clutter Your Inbox
Set rules in your inbox and unsubscribe from irrelevant lists.
Make sure that you have a separate email address for your business and your personal emails. This will cut down on distraction and overwhelm if your inbox is filling up with emails.
Clearing out our inbox and unsubscribing from irrelevant lists is something that we need to do on a semi-regular basis to prevent it from growing into an enormous job.
Having a cluttered inbox often means that you either miss important emails altogether, or you go down a rabbit hole of opening emails that are just a distraction (see #19).
All of a sudden you've lost an hour!
Email providers such as Gmail, Outlook, etc. allow you to be able to set rules so that when emails come to your inbox, they are automatically redirected into the folder of your choosing.
This keeps your inbox looking clean and tidy.
Keep in mind though, that if these emails land in a folder that is NOT your inbox, there's a good chance that you won't open that email (unless you actually go into that folder to look for it).
If there's a sender that is no longer relevant to your business, just unsubscribe.
This actually helps them in the long run as they'll get better open rates and engagement with their audience who is.
CONCLUSION
There are so many different things in our life that can stop us from being productive as a blogger who works from home. Knowing ways that we can identify these productivity blockers and using proven strategies such as those I've mentioned above to improve your productivity will have a massive impact on both your business and your personal life.
Which of the productivity tips for working at home was your biggest takeaway? I'd love to know… Let me know in the comments below!
If you found this article helpful, make sure you save this pin to your productivity or blogging tips board on Pinterest to refer back to later when you feel like you need a productivity nudge!